The Beauty and Cosmetic Clinic @ 70 Pitt St is excited to offer our patients athe enCurve fat reduction system.
WHAT SETS ENCURVE APART?
Safely destroys fat cells while protecting epidermis and dermis
Pain free
No Downtime
2 Applicators for variety of treatment options including abdomen, thigh, and arm
Customize treatments with Personalized Impedance Synchronization Application technology PISA™)
300 Watts deliver ideal power for optimal treatment outcomes
Air Mode works to eliminate sweat on tissue for best patient comfort
PERSONALIZED IMPEDANCE SYNCHRONIZATION APPLICATION "PISA"
The enCurve synchronizes treatment energy with the change in the patient's impedance in order to
minimize energy loss and achieve a better clinical outcome. PISA technology overcomes shortcomings of traditional RF devices.
COMPARISON OF TREATMENT MODALITIES IN BODY CONTOURING
The enCurve safely and easily treats entire abdomen and waist line for a more natural appearance and full coverage, while most competitors do not.

NON-CONTACT RF
The applicator is placed over the area to be treated,
Once the treatment begins the device measures the impedance of the tissue, and begins to tune to the adipose tissue.
Device constantly adjusts energy delivery in order to ensure and maintain homogeneous heating of the tissue.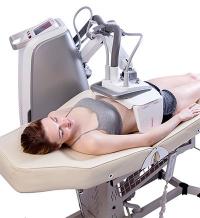 Call us on 92333399 to book an appointment or discuss your