Microdermabrasion is one of the most popular and affordable skin procedures performed at our clinic.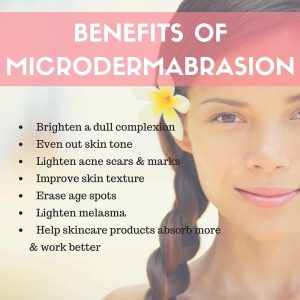 It uses abrasive paddles to remove layers of the outermost stratum corneum of the epidermis. Depending on the skin conditions and the results desired, 3-10 treatments are generally provided, with an average treatment time of 30-40 minutes, every 7-10 days.
It enhances the topical therapies and is an efficient adjuvant to laser and IPL procedures.
It provides instant results without the risk of side effects or down time and is an important component of the rejuvenation (looking younger) procedures aimed at:
Erasing wrinkles and fine lines
Reducing pore size
Improving skin texture and elasticity
Instant freshness, no downtime
Not recommended for sensitive skin or skin prone to redness
Microdermabrasion Plus
 We use a AHA mask to soften the surface of the skin first allowing a deeper penetration of the peel, followed by a massage and a mask using products carefully selected to your needs.
Advantages:
Instant freshness, this will leave your skin smooth and hydrated
Excellent before an important event
No downtime
For a consultation to discuss solutions to achieve excellent health and looks, call us today on 92333399 to book an appointment.