Customised -Salon Services – Facials
Facials are skin treatments we tailor for individual needs. Our treatments use potent ingredients and techniques to effectively remove impurities, unblock clogged pores and help your skin to function better. We can add a peel, LED Light Therapy, combine with laser treatments and advise on appropriate home care program.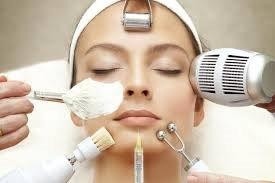 See below a few of our most popular facials:
 Skin Corrector Peel
Cleanse, antioxidant peel (Ellagic Acid)
Lifting enzyme mask and a massage
Home care kit
Suitable for all skin types/colours
Long lasting results
Deep Cleansing Facials
Cleanse, steam, exfoliation, extractions, mask and mineral make-up
Clean blocked pores/extraction of impurities
Reduce inflammation
B-Booster Facials
Increasing the metabolism of the skin
Nourish and add life to dull complexion
Improve the penetration of Cosmeceuticals
Energy booster for any skin type
 Ultrasonic Medi Facial
Exfoliate and hydrate with powerful sonic waves
Strong infusion of peptides and vitamins and a massage
Suitable for all skin types and colours
Organic Avogen Facial
Enzyme exfoliation and massage
Infusion of Vitamin C and a mask to suit your skin
To energise and freshen
For a Comprehensive consultation to discuss solutions to achieve excellent health and looks, call us today on 92333399 to book an appointment.