The newest addition to the treatments we offer:
CarboxyTherapy – instant results with no downtime in just 45 minutes
What is CarboxyTherapy?
Carboxytherapy infuses CO2 just beneath the skin's surface to induce a shortage of oxygen within the skin.
In response, the skin will increase its blood supply to the area.  This surge in blood supply will deliver oxygen, nutrients and fresh fluid, re-setting a healthy skin metabolism.
The skin benefits of such process are:
Improved circulation
Nutritional support
Detoxification
Increased moisture
Collagen stimulation.
In addition there is an increased influx in immunoregulatory cells. The skin becomes more resistant to free radical damage that causes ageing and skin cancer.
The skin will immediately look healthier, plumper and shinier. There will also be a decrease in marks and fine lines.
In time there is increased collagen production which boosts the skin firmness.
Carboxy Facial is rapidly becoming the leading skin rejuvenation treatment as it is safe, minimally invasive clinically proven method to rejuvenate and restore as well as, recondition the skin and treat loose skin due to ageing and sun damage. Carboxytherapy also treats cellulite, resistant fat and stretch marks.
What areas and problems are treated with CarboxyTherapy?
Dark Circles by increasing the oxygenation of the area
Eye Bags are reduced by skin tightening and modest fat reduction
Crows Feet Wrinkles and sleep lines around the eye area  are reduced due to collagen stimulation
Total skin rejuvenation due to collagen stimulation and mass oxygen flow
Crepey, dehydrated skin due to nutrient supply and skin cell renewal
Improve Acne Scars in combination with skin micro needling treatments which promote collagen formation under the scar
Inflamed skin , acne, atopic dermatitis, post inflammatory hyperpigmentation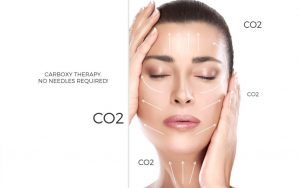 When should one start CarboxyTherapy?
Giving your skin a boost is an appropriate endeavour at any age and time,  so the answer is:
As soon as one can!
As we age, the skin's elasticity declines dramatically and decreasing collagen fibres impact negatively on the quality of the skin. Photo damage and external factors which stress the skin become more pronounced.
Carboxytherapy will help keep the skin cells healthy and delay the signs of ageing.
What can one expect before and after a CarboxyTherapy treatment?
After a treatment the Carboxy gas is totally reabsorbed within 5 minutes. The treated area, will rise and turn slightly red, as oxygen infuses the area.
The transient decrease in skin oxygenation triggers off a survival signal and inflammatory reaction which will set in motion the collagen production.
Do not be deterred by the initial, transient redness – REDDNESS is YOUR Friend as a marker of increased positive skin activity.
After the procedure, we apply special, calming skin products and patients can return to work immediately after treatment: truly a walk in/walk out procedure.
How many treatments are necessary?
Typically, 4 to 6 treatments of Carboxytherapy sessions are required for the face. Clients have a session every 2 to 4 weeks and each treatment is cumulative.
Maintaining beauty isn't a sprint – it's a marathon. Rather than waiting until problems arise again, patients are recommended to get a touch up session every 3 to 6 months to maintain hydrated and supple skin.
Can all skin types be safely treated with CarboxyTherapy?
Carboxytherapy safely treats all skin types without pain or down-time. It can erase years off one's face and is one of the most effective methods of achieving a significant aesthetic improvement within 2 to 6 months when the effects of collagen stimulation and remodelling become evident.
Which treatments can I combine with CarboxyTherapy?
Carboxytherapy Therapy is perfect as an individual treatment for global skin rejuvenation. However the cutting-edge performance is delivered when performed in conjunction with more invasive treatments such as Laser, Microneedling, Mesotherapy , Radiofrequency or HIFU.
When used in addition to those treatments, CarboxyTherapy will help heal the skin faster, minimise irritation and side effects as well as increasing the results and restore health to the skin.