About Cosmetic Mesotherapy
Cosmetic mesotherapy is a treatment  capable of improving the majority of cosmetic issues by providing small quantities of active ingredients directly to the area where they are needed.  In conventional mesotherapy treatments these ingredients are administered via microinjections into the mesodermic layer of the skin where they act as slow release medication.
What we can improve with mesotherapy:
Hydration
Skin tone
Unwanted pigmentation
Enlarged pores
Rough skin
Superficial wrinkles
Cellulite
Stretch marks
Localised Fat deposits
What Mesotherapy cannot improve:
Deep wrinkles
Redness
Sagging skin
Pigmented lesions(solar lentigines)
The injections are  combination of effective, safe and scientifically proven ingredients:
Vitamins C, A, B
Antioxidants to protect the skin against oxidative damage
Micro-circulation regulators to prevent asphyxia of the skin
Hyaluronic acid to plump up the skin and maintain the moisture
Aminoacids to support collagen and elastin production
Trace mineralsas essential co-factors of various cellular proceses
The Beauty Clinic Mesotherapy Packages
Meso Anti-Ageing 1(Dense)
MesoAntiAgeing 2(Less Dense)
Meso Hydration and Nourishing
Meso Blanche Pigmentation Removal
MesoAcne Treatment:
Meso Eye Pick up
Meso Glow Botox
At The Beauty Clinic, the injections are administered using the Vital injector.
 The Vital  Mesotherapy Injector : A Powerful Anti-Aging Weapon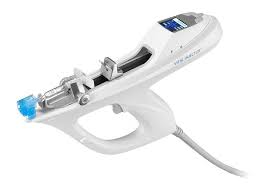 Allows the delivery of skin regeneration bioactive substances directly into the skin where they act as a slow release cosmoceutical.
Precise amount to precise depth
Adjustable dose
Delivered via 5 or 9 needles multi-injector causing less pain and taking less time
Vacuum system minimizes discomfort and risk of bruising and avoids spillage
Allows injection of 100% customised skin cocktails tailored to your needs: hydration, nourishing, pigmentation, scar treatment, enlarged pores, acne, localized fat, stretch marks, cellulite
Fast treatments
Minimal discomfort
Minimal or no downtime
Immediate results and long term results
Dual mode of dermal stimulation: microneedling+delivery of bio-active substances
Expect:
Short term: brighter, suppler and smoother skin
Long term: less wrinkles, healthier epidermis and dermis, firmer and more hydrated skin
Mesotherapy Protocol:
Each patient is assessed and a 100% customized protocol is designed. Typically we recommend 3-4 fortnightly treatments followed by 2-4 monthly treatments with six monthly to yearly touch up sessions.
Each sessions involves the followings:
Skin preparation
Microdermabrasion or light chemical peel
Topical anaesthesia
Vital Injection of bioactive cocktail
Topical ultrasound infusion of bioactive mix to seal the treated area
LED light treatment
Moisturising sun screen application
Please call us or book an appointment to find out more about The Beauty Clinic Mesotherapy Treatments which are a new and innovative antiageing weapon.