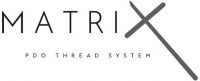 Collagen Boost threads are fine collagen threads which are inserted within the layers of the skin, that stimulate and accelerate your own collagen, elastin and hyaluronic acid providing instant results that improve over time, with no downtime. The treatment uses PDO smooth threads and is ideal for anyone looking to improve the quality, tone, and texture of their skin.
How does it work?
Matrix PDO threads come in two different textures, Mono Thread and Double Screw Thread.
Matrix Mono Thread consists of a single fine layer of PDO which acts to stimulate collagen evenly around its placement.
Matrix Double Screw Thread has a longer but intertwined thread that offers collagen stimulation in addition to added volumizing effect.
Matrix PDO Threads are inserted in the skin, in a mesh-like pattern and promote the creation of new collagen, and resulting in a gradual skin thickening, tightening and rejuvenation.
Skin improvements become visible at around 6 weeks and will reach maximum result at 3-4 months. The threads slowly dissolve within 6 months while the collagen production stimulation is permanent.
Typically, clients have top up treatment once a year in order to maintain the result.
What happens during a Matrix PDO Thread Treatment?
Topical anaesthetic is applied to the treatment area. The PDO Threads are inserted using a micro-needle. There is no incision and subsequently, no stitches required.
Treatment sessions typically take between 30 to 60 minutes and people can resume normal activities immediately after. Although strenuous exercise is discouraged.
What areas can Matrix PDO Threads be used to treat?
· Upper and lower cheeks
· Forehead and brows
· Neck and jawline
· Nose to mouth lines
· Marionette lines
· Submental
How do they differ from other threads?
It is important to note that the new PDO threads are very different from the classic "thread lift" procedure. "Thread lifts" use a larger and longer thread to lift larger areas of the face-up against gravity or aging process. This is very different from Matrix PDO Threads which are gently and strategically placed under the skin to stimulate your own body's collagen to create a firming and tightening effect to improve skin texture from within.
You can view thread lift before and after images here
To find out if you're a suitable candidate for this treatment,
please call us on 02 9233 3399 ext.2 or email us at info@thebeautyclinic.com.au to schedule a consultation with one of our experienced practitioners.