The non-surgical approach for facial lifting and body contouring
Our clinic is proud to introduce the new generation of thread lifting from Aptos, the world leader in thread lifting technology. Internationally acclaimed and winner of numerous trophies for threads excellence, Aptos has the largest range of threads and thread lifting techniques available in Australia. All Aptos threads are TGA listed and comply with TGA regulations.
What is a thread lift?
A thread lift is a minimally invasive cosmetic procedure. This means there is no cutting of the skin as there is with other surgical procedures.
Threads are inserted gently into the soft tissue of the areas to be lifted and a local anaesthetic is used to calm the area and ensure a comfortable experience.
The threads dissolve within 1.5 to 2 years depending on the composition of the threads, but before they dissolve, they create a support scaffolding of collagen for the skin that supports and lifts the skin for many years to come.
In addition to the lift effect, a thread lift will create new skin firmness with improved skin colour, skin tone, texture, and hydration.
Results are immediately evident and continued improvement is obvious over the coming months.
Your doctor may also recommend thread lifting in combination with other treatments such as dermal fillers and anti-wrinkle injections depending on your requirements.
Who is the ideal candidate for thread lift?
The ideal candidate for a thread lift is someone who has sagging or loose skin and is seeking a refreshed appearance without having unnecessary downtime and expense.
A thread lift is an ideal solution to treat different areas.
· Lift and add volume to sagging cheeks
· Elevate sagging brows
· Elevate and refresh marionette lines and nasolabial folds
· Create fullness in the lips
· Support and revitalize the neck area
· Correct asymmetry of the brow and face
· Revitalize and lift the jowl area
· Reduce the appearance of fine lines and wrinkles
What are the advantages of Aptos threads?
· Lift result can be seen immediately
· Improvement continues over many months
· No scarring
· New collagen is formed and skin is regenerated
· Improves skin tone, colour, texture, and hydration
· Minimum of downtime
· Takes about 60 minutes
· Results can last for several years
· Aptos needle design ensures a comfortable experience
· Can be combined with dermal fillers anti-wrinkle injections
Which areas can be treated by Aptos threads?
Thread lifts can be used to treat a wide variety of different areas including, smoothing horizontal and vertical forehead wrinkles, lifting the brow and outer eyebrow area and restoring volume to sagging cheeks. They can also smooth lines around the mouth and tighten sagging skin under the lower jaw as well as providing lift and rejuvenation to various parts of the body.
Why should I ask Dr Bitlan for an Aptos thread lift?
Aptos has the largest range of threads and thread lifting methods available in Australia. Dr Bitlan is accredited by Aptos and will guide you as to the correct thread and thread-lifting method to ensure that you receive the best results for your skin.
Aptos has an extensive range of threads including small threads for body armouring, threads for skin revitalisation, lifting threads for gently lifting tissue and fixing tissue and surgical threads for more specific surgical indications.
There is an Aptos thread and thread lifting method to help you achieve your beauty needs.
An initial consultation with Dr Bitlan is required.
Before & After Pictures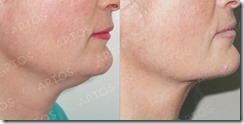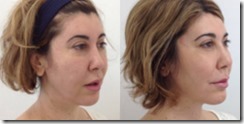 *Treatment takes 60-90 minutes. An initial consultation with Dr Bitlan is required.
Please call us on 02 9233 3399 ext.2 to make a booking with Dr Bitlan for further discussion.