PRP injections were first used in 1987 in open heart surgery. Today, PRP injections have been safely used in many medical fields and increasingly in cosmetic medicine to increase the collagen production by the skin fibroblasts.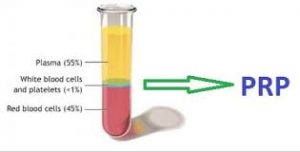 We collect and process patient's own blood and separate the platelets containing active growth factors (PRP). We then, re-inject the product in the areas of need.
As opposed to synthetic fillers that replace the collagen lost, the PRP treatment stimulates the body to produce and deposit collagen.
This augments the skin by improving the skin tone, texture and colour. Marked improvement in the skin condition and overall appearance is expected.
Which areas can PRP treat?
Peri-orbital area
Neck
Cheeks
Back of the hands
Naso-labial & naso-jugal folds
Peri-oral area
Neck
Decolletage
Scalp to stimulate hair re-growth
The PRP Treatment Protocol:
Doctor Bitlan takes a sample of blood from your arm
The area to be treated is covered with anaesthetic cream for about 30 min
Blood is processed  and prepared for treatment
The platelet rich plasma is injected into the skin using our Vital mesotherapy injector
Recovery is fast
The treatment takes about 30 min
Visible changes are noted in 3-4 weeks
It works best as a course of 2-3 treatments one month apart and a top up at one year
Possible PRP side effects (Always fully reversible in 24-48 hours)
Minor redness,
Swelling(mainly in the peri-orbital area )
Bruising,
Discomfort
Skin infection may occur which can be treated with antibiotics and cold compresses
The PRP treatment is unsuitable for:
Smokers
Advanced skin damage
Deep wrinkles
Severe scarring
Contraindications:
Facial cancer past or present
Systemic cancer, chemotherapy, steroid therapy
Dermatological diseases
Anticoagulation therapy , aspirin, anti-platelet drug
For a consultation to discuss solutions to achieve excellent health and looks, call us today on 92333399 to book an appointment with Doctor Bitlan