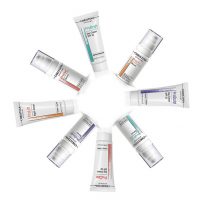 Christina Medical range has evolved from Christina Clinical that has started in Israel decades ago and has since been distributed internationally to over 50 countries.
Christina Medical range contains higher concentration of active ingredients and is only available from doctor run clinics.
Dr Bitlan decided to add this range to our clinic after being impressed by the results reported by other cosmetic doctors that presented their experiences at various international cosmetic conferences.
What makes Christina Medical attractive?
Christina Medical products are strong and effective. They contain powerful ingredients and use revolutionary new technology that enables superior skin penetration.
Suitable for all skin types with low risk of skin irritation or side effects. The Christina Medical products are made up of potent natural ingredients. It does not have irritating chemicals and preservatives.
Christina Medical has 5 distinct lines of products each covering common situations encountered in our practice. This allows us to customize our treatments and obtain the best results.
| | |
| --- | --- |
| | ProBright : Skin repair and boosting ingredients to heal and prepare the skin for cosmetic interventions |
| | ProSculpt: Suitable for more mature skin |
| | ProClear: Suitable for clients with acne, enlarged pores, oily skin |
| | ProLift: To enhance, maintain and prolong the results after anti-wrinkle injections |
| | ProCare: Supports the other lines with cleanser, peel, cover and eye cream |
Simplicity of Use: each line of products has an easy to follow program:
Products to be used am/pm
Offers serums to accelerate the positive results
Each item combines a range of synergistic ingredients aimed at repairing, protecting and nourishing the skin. This minimizes the number of products one needs to use during the day.
In-built Sunscreen in the day cream further simplifies the home skin care routine.
Our Range of Christina Clinical
ProBright Day Cream SPF 30

Day cream enriched with moisturizers inhibits production of melanin, while powerful antioxidants help neutralize free radicals, leaving the skin bright and even skin toned.

ProBright Serum Total Hydration

Provides intense and prolonged hydration, soothing irritated skin, The unique combination of botanical extracts, HA and moisturizers supply rich nourishment, leaving the skin reinvigorated and relaxed.

ProBright Night Cream

Repairing night cream enriched with moisturizers and essential nutrients that promote a healthy looking skin.

Serum Total brightening

Innovative brightening complex, a unique combination of melatonin inhibitors that blur the visibility of spots and promote an even tone and glowing complexion.

ProSculpt Day Cream SPF 30

Innovative formula fights free radicals, calms and reduces redness while boosting the skin's natural defence mechanisms and supplying prolonged hydration.

Prosculpt Night Cream

Unique combination of natural ingredients restores vitality to tires, lack of luster skin. The cream boosts HA production, leading to a firmer, more relaxed skin.

Prosculpt Serum

Powerful treatment that combines technologically advanced ingredients helps blur the visibility of wrinkles and fine lines.

ProClear Day Cream SPF 20

Unique formula of non-comedogenic oils provides effective protection against  damaging sun rays and environmental pollutants. A botanical complex with anti inflammatory and anti bacterial properties reduces incidence of comedones and sebum accumulation, leaving the skin relaxed and matte.

ProClear Night Cream

Repairing night cream boosts collagen production and helps reduce the visibility of blemishes and scars.

ProClear Serum

The unique formula features an innovative anti oxidant peptide that fights free radicals and strengthens the skin's resilience to damaging environmental factors

ProClear Corrector

Topical drying gel significantly reduces blemishes and incidence of comedones. Keratolytlc and powerful anti bacterial ingredients, boost cell regeneration, revealing a smooth, healthy looking skin.

ProCare ProCover

Light Cream conceals imperfections and redness. Botanical extracts protect against environmental damage while a complex of vitamins protects against free radicals, leaving the skin even toned, with a uniform texture. Suitable for use on all skin types, even after medical procedure.
For more information please call us to discuss or book a consultation