ZO products work from the inside out, stimulating your skin's cells to nourish, replenish and maintain themselves to support daily skin health and protection from the environment.
What is ZO® Skin Health?
ZO® was founded by world-renowned, board-certified dermatologist, Dr. Zein Obagi.
Using innovative formulas, bio-engineered complexes, and state-of-the-art delivery systems, ZO® Skin Health has quickly catapulted to the top of the skincare industry.
Not only does it have highly unique individual products, but ZO® also offers several skincare systems designed to prevent and treat common skin concerns.
What skin conditions can ZO® Skin Health treat?
The ZO Skin Health product range contains several active ingredients, including high strength retinol and antioxidants – effective for the restoration and long-term maintenance of healthy skin.
Below skin conditions can be treated:
· Acne
· Hyperpigmentation
· Rosacea
· Sun damage
· Sensitive
· Anti- aging
What skincare systems does ZO® Skin Health offer?
· Daily Skincare Program – strengthens and maintains healthy skin with a four-product regimen focused on preserving a youthful complexion, hydrating the skin, and improving overall skin tone and pore quality.
· Anti-Aging Program – reduces the signs of aging by reducing the appearance of fine lines and wrinkles, lightening hyperpigmentation, and firming and strengthening the skin.
· Aggressive Anti-Aging Program – six powerhouse products work together to radically repair aging skin while improving skin's texture, tone, and resiliency.
· Skin Brightening Program – addresses hyperpigmentation, restores moisture balance, and soothes irritated skin without the use of hydroquinone or retinols.
· Complexion Clearing Program – works to eliminate acne and prevent future breakouts by minimizing excess oil, decongesting pores, and normalizing bacteria levels on skin.
· Skin Normalizing System – Soothes and strengthens red, sensitized skin with advanced amino acid complexes and enhanced antioxidants.
This at home skincare is designed to treat your skin concerns and also complements our clinic's medical treatments.
You can view ZO Skin Health before and after images here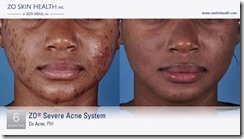 To find out what products or program are best for you, please call us on 02 9233 3399 ext.2 or email us at info@thebeautyclinic.com.au to schedule a complimentary consultation with our dermal clinician.