Laser Genesis photo-facial skin therapy is an innovative, technologically advanced non-ablative photo rejuvenation procedure that promotes vibrant and healthy looking skin in men and women.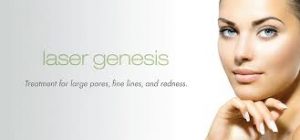 Now you can have a more youthful appearance by treating those conditions that are typically associated with premature signs of ageing and sun damage, such as excessive redness, large pores, uneven texture, and fine line wrinkles.
Advantages of Laser Genesis Photo-facial treatment
Scientifically proven to produce new collagen, increasing skin firmness and improving skin texture
Reduces wrinkles, diminishes pore size, and reduces skin redness
All skin types may be treated without fear of complications — even in summer.
The treatment is totally painless
Laser Genesis can be performed quickly — a lunchtime procedure!
There is absolutely no downtime
At The Beauty Clinic , laser Genesis photo-facial skin therapy treatment is one of the most popular and effective ways to treat rosacea and reduce the pore size.
Photo-facial skin therapy Frequently Asked Questions
How Does Laser Genesis photo-facial skin therapy Work?
By gently heating the upper dermis well below your skin's surface, Laser Genesis warms the miniature swollen vessels that create diffuse redness, which are then absorbed by the body over the period of a few weeks. The procedure also stimulates collagen renewal, resulting in tighter pores, smoother skin, and the reduction of fine lines and wrinkles. This method of promoting collagen renewal also smoothes, flattens, and removes the red discoloration of scars.
What is Diffuse Redness?
Diffuse redness is a general appearance of facial redness, such as rosy or blotchy cheeks. Individuals with diffuse redness may also blush easily. This condition is caused by dilated capillaries, resulting in an appearance of general redness and may be accompanied by broken capillaries or facial veins. The most commonly affected areas are the nose, forehead, and cheeks. Diffuse redness is often associated with a condition called rosacea and it can be hereditary. Laser Genesis therapy will help your appearance by gently treating and drastically reducing the appearance of this condition.
What Areas Can photo-facial skin therapy treat?
Laser Genesis patients report excellent results over their entire faces, necks, and décolletage. Additionally, Laser Genesis is very adept at diminishing the appearance of scars on all parts of the body, including acne and surgical scarring.
What Does Laser Genesis Photo-facial Feel Like?
Patients often describe the treatment as relaxing and therapeutic. You will experience a gentle warming of your skin's surface during the procedure as the laser hand piece is moved back and forth about 1/2 inch above your skin, similar to airbrushing. You can expect to return to normal activities immediately, using sunscreen if participating in outdoor activities.
What Are the Possible Side Effects?
Although most patients report few, if any, side effects, the most common is a slight redness that disappears a short time following treatment.
How Many Treatments Will I Need?
The treatment results are cumulative. On average, patients require four to six treatments in order to achieve the best results.
When Will I See Results?
Most patients notice immediate improvement in pore size and the texture of their skin. Redness and fine lines are considerably less noticeable with future treatments.
How Long Do Photo-facial Results Last?
While treatment with Laser Genesis is the most effective option available, the factors that contribute to aging and diffuse redness will eventually create new swollen capillaries and collagen destruction. Maintenance recommendations will be based on your individual symptoms and lifestyle.
For a consultation to discuss solutions to achieve excellent health and looks, call us today on 92333399 to book an appointment.